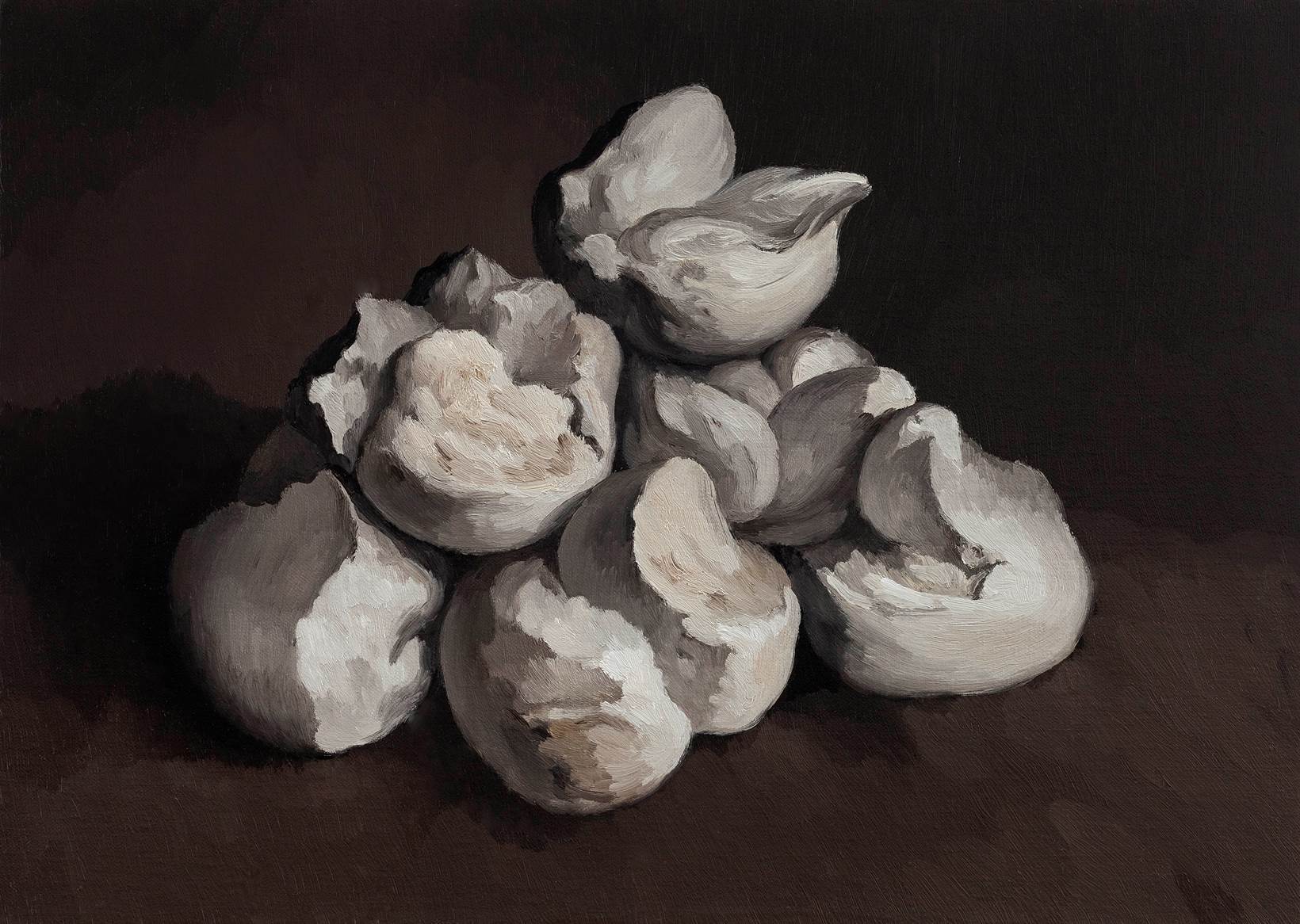 After all, an artist needs some reason for his/her artistic undertaking. The most reliable angle starts from oneself, since in this way there would be no such thing as universality that towers over every particularity. And when talking with artists, I often considered a question: how are individual and emotional perspectives transformed into more extensive, shareable arts? In the contemporary art, not only the works of artists, but also the ways artists behave are contained in the concept of art, and both address such questions as the essence or value of arts which even artists themselves couldn't answer clearly in words.
Yan Bing came from the northwestern countryside, and creates works in languages of contemporary art. But throughout his artistic career, the spiritual yearning for the agricultural age has always been his major subject matter. As I understand, surely he won't go back and farm again. So, the emotion he resorts to, what is its universal message about the reality? Yan Bing almost pleads for something instinctively, even obsessively. In my view, his art, though not rigorous, has something exceptionally pure. Just like choices of paths in personal life, actions often relate to questions like "Do we act in compliance with our true natures?". Our natures will gradually and more clearly show themselves in our practices, in our willful or hesitant or frustrated actions. Our natures will tell us what life paths we have chosen and how should we proceed along these paths. And our natures can be a redemptive lamp for the lost modern people.

Ms Xiang: Let's began with the works of this exhibition. You didn't use many metal materials, and this time you use a great deal of iron and steel. What's your idea in the choice of metal materials?
Mr Yan: It is related to my understanding of steel and the agricultural society. We feel that both earth and grain are soft and mild, and iron is sharp. When people go onto the land, they usually shoulder a farm tool, and most farm tools are made of iron. We often wipe and rub farm tools to make them handier. Making ironwares involves ingenious crafty work. That's why it is so often the case that almost everyone in an area gets his farm tools from a single blacksmith. The career of a blacksmith is an ancient one. My mother's brother was a blacksmith. Since childhood I had been watching him striking the glowing iron chunks in his smoke-billowing smithy, with sparks flying off all around. In recent years, agriculture has suddenly declined. Lands began being left desolate, farm tools all hung on the walls. Though reluctant, my uncle closed his shop after some hesitation. Two or three years ago I went back there to see if he could work with me to make some ironwares, but he was too old for that, and the smithy had been changed for some other use. A decrepit form of society has come to an end, and a sense of history abruptly appears. For me, there are lots of things to think and say. I used earth before, and use iron this time, both of which could be traced out in my experiences.
Ms Xiang: In contrast to some artists who make their works by themselves, you still have others "process" yours. Two of your solo exhibitions are simply titled "My Labor". Are you really a man good at laboring? Or is it just that you have affection for labor and put symbolic meanings in it?
Mr Yan: I count myself as a laborer, and I love to work by hand. It is so especially when I was doing those works with earth. Then I trusted nothing but my hand-touch and experience, and made all of them by myself. Since those works have all kinds of connections with agricultural laboring, I titled them "My Labor". The making of this batch of works, titled "Love", requires some techniques I am incapable of, and I have to turn to technicians. Electric welding, for example. I always hurt my eyes doing it.
Ms Xiang: You once said that there are, still, narratives hidden in your languages. Where is the narrative part in the works this time?
Mr Yan: In this batch of works titled "Love", "iron" and "wheat" are like two words coming together after the procedure of striking, welding, polishing, cutting, and sealing, which offers a possible narrative. And the black surface is the basic color and aura I set. For me, this is enough. It is like I observed two persons talking, but don't want to know what they spoke.
Ms Xiang: How about symbols? It seems that all the materials you employ have an air of metaphor or symbol. Would you like to enumerate the materials you often use?
Mr Yan: Here are the materials I often use: earth, grain, flax, fur, wheat straw, timber, iron, etc., all common materials in daily life. They share some features in common: primitive, ordinary, in a state of having not yet been upgraded; or all prostrate on the ground. Symbolization is plain. For example, the dawn and dusk on a overcast day are very similar. At such threshold points, we have extraordinary experiences. But as time and light go on, the equilibrium is broken. The dawn leads to the day, the dusk to the night, and everybody goes to do what to do. The same goes with materials. Appropriate ways can push materials to some threshold point, looking both familiar and strange, so as to stimulate new implications. Such implications would automatically carry symbols, rather than being designed to symbolize.
Ms Xiang: Why did you name your new series with "Love"?
Mr Yan: A finished work is more like a fixed pose, which corresponds the author's most complicate and obscure experiences. Having finished this group of works, I found I couldn't effectively explain it. It points to something both huge and empty, with a sad and pitiful undercoat. And the closest word could be nothing else but "love".
Ms Xiang: According to what you just said, your works seem like an ode to the agricultural society, or reflections on modernity through reminiscences of the people of the agricultural society, don't they? Since you left village life, you have been living in cites for many years. Why do you stubbornly yearn for the countryside?
Mr Yan: Perhaps, it is exactly the distance of time and space that helped me develop my judgement about villages. If I continued being a farmer, I must have been struggling to get by like most of others, with no time to reflect. The contrast between the agricultural society and the modern commercial society is really sharp, so sharp that each one clearly shows its traits in the light of the other. In China, the topology of the modern society and the agricultural society is in fact a mutually inside-outside one, and it is next to impossible to talk about them separately. Take an example: when I go back to my hometown every year, I go back to the agricultural society, indeed. Its weight accounts for at least half of my life. It is both my history and my reality. The countryside society has been undergoing changes and degeneration, the formerly self-sufficient system disintegrating. But all these are still under way, and haven't retreated into history. You can run straight into all kinds of embarrassment arising from this change, if you like to turn back.
Ms Xiang: It seems that the original motives of your works came from not so much your individual experiences as your individual feelings. The faculty of feelings is an ingredient suppressed in the contemporary art. Why have you been always insisting to think as a farmer? Is it because you have sympathy and pity for the fate of farmers? In your eyes, what does it mean that the agricultural life and class are vanishing?
Mr Yan: Individual experiences guarantee the reliability and completeness of my works, while feelings provide the original drive for my creative activities. "Contemporary art" is another parochial concept. In fact it is a new invisible prison. I don't care about it much. "Think as a farmer" might come out of instinct. I had always been a farmer before 19, and my values took shape in laboring. Values result from one's existence in time, and imperceptibly shape one's character. In our context, "farmer" is a class concept. Many things are concealed by this all-encompassing word. And "farmer" has become a synonym for everything old and backward. Thus it seems that the collapse of rural life is inevitable. The sad thing is that we have no right to choose. It is not an outcome of a natural growth. We are destined to completely forget it, like abandoning a lame sheep who couldn't catch up with the flock. An age somewhat resembles the Spring Festival travel rush, in which only a part of people who rush into a railway station can grab a ticket. Most of the time, man can't keep himself standing on the bank.
Ms Xiang: Although you keep identifying yourself with the agricultural society, you are an artist, after all. Generally speaking, you still think about these social questions with an artist's mind. When you keep digging and thinking about topics related with agricultural society (rural life), what do you want to express?
Mr Yan: It is compassion rather than identification. One who lives in such a society can hardly obtain identification or certainty. And compassion is in fact a kind of reflection, through which one can develop a relatively comprehensive attitude. Each of us bears his own world, differing only in posture. What's more, we only see the questions, and can't think over them effectively. Facing social questions, artists are, more often than not, unable to do anything. But this "unable to do anything" can be a kind of power sometimes. It's hard to tell what I want to express. It is against the anxiety of existence that I keep facing and thinking about these questions. If seen in this way, the topic of agricultural society (rural life) is not really the gist of my works. But this anxiety may drive me to be confronted with myself, to go after a simplest and plainest place to settle. I feel the need to watch ceaselessly. City and countryside are in a complicate state of "as one falls, another rises". And I happen to live in it, and conveniently pick up materials related with countryside. It is just like a man walking along a valley who then sang some phrases. It is hard to say what he wanted to express about the valley. I think it is a response, and a kind of self-acknowledgment as well.
Ms Xiang: Perhaps I am pushing you for an answer. I mean, how do you make a distinction between so called your personal feelings and works that could be transformed into public topics? When you keep resorting to your sincere affection for the countryside, what do you expect the audience to respond? I believe that no artists can reasonably insist that "what I express is only about what I want to express, and I don't care about how others think of it".
Mr Yan: For me it is very difficult to make this distinction, and I see no need to do so. Our impressions come from synthetical experiences about the world. No matter in cities or countryside, experiences obtained from different times and fields are interwoven and inter-stimulating, and form an integral whole. Any judgement we make is an effect of this whole. For sure, the core of any work is something one chooses. It is only when some impression is great enough to compel me to face it that I might consider making a work of it. It is like looking at a expanse of sand: usually the biggest stone first leaps to the eye. Such choices often don't result from deliberate discrimination, but from instinct reactions. Only one himself knows where it hurts. On many occasions, such elusive words as "character" or "aesthetic" may better describe the situations. Man comes to obtain a major impression. How it comes differs from man to man, and it is complicate, unique to each. I just use structures as simple for me as possible to correspond that complicate impression. Such structures carry my personal judgements and aesthetic attitude. Even the most hidden feeling may be betrayed inadvertently in works, which I have no intention to scrutinize. So works that are to my liking should be sexy, with some implications indescribable yet perceivable. These implications are not designed, but are carried by works themselves, like something the Nature makes, or a result of the artist's throwing himself body and soul. That is exactly what in arts attracts me. I think my works are, in general, introverted rather than extroverted. The only thing I can do is condense my impressions through creative laboring, and try to bring myself into some new, inspirational circumstances with the help of my works. That leaves me with no leeway to think about the audience at all. And I don't know who are the audience, so I am indeed unable to foresee their reactions. That's why I always felt so embarrassed whenever putting out my works for an exhibition. If they happen to strike a chord in someone, I will be gratified. I mean it.
Ms Xiang: You have been always using matter – matter related with rural life – as materials. Some distance of experience separates the materials from the place where artistic activities happen – cities. The materials present a poetic trait in the artist's hand, and the original properties of them have lost their importance, for they have been transformed into expressions of man's spirituality. Are you aware of such a transformation when working?
Mr Yan: Usually, matter keeps being what it is by convention. Only when we fix our eyes on it can it be seen in a new way. It is only then when it can possibly constitute a word. For example, a bunch of wheat straw or a mound of earth glistens only when it has spiritual bearing for me. This can't be postulated. It happens in a matter of a moment. Works only serve as carriers. And sometimes other unexpected meanings emerge after works have been finished. Why do I often use matter related with rural life: part of the reasons is that I am familiar enough with them; also I like simple, plain objects which occupy a sense of time. They are my materials, and can be my themes, too.
Ms Xiang: Let's come back to your earliest works. Would you like to talk about how you began your artistic career? The earliest motive? And how about several stages of your development?
Mr Yan: For me it's a tough process. I liked to draw as a child. The earliest attraction came from rural temples. I used to draw people, ghosts, and scenery. Later, as I was preparing for the entry examination to art college, I gradually came to figurative drawing. During my college time, I also attempted to abandon my old aesthetic preferences, and tried almost every style I saw. The result of this was that I hadn't drawn for three years after graduation. My mind was so confused that I felt I could draw nothing. But I didn't stop thinking about art. At that time, I felt like nothing was fit for my being, and the techniques I had grasped couldn't be used to express myself. In fact,, I was not clear about what I wanted to do, and had some kind of misunderstanding about art; my pursuit of techniques outgrew my understanding of art. Then, art was not really into me. Art and me were like two layers of skins, although apparently I had been always doing something about art. That was a sort of suffering that kept aching until one day when I came back to my hometown. It was the season of threshing wheat. I was deeply struck by the familiar scene of laboring, which is so pure and ancient. There was, in my mind, something responding to that. I knew what I wanted to do, and felt that my long-time anxious feeling had found its foothold, which was right beside me. So it began. First I did some works with the common earth there. I felt that the artistic techniques I had learned over years had been truly combined with what I cared about. The happiness of expression fell to me, and all my past experience came to life. Gradually, other materials and methods were added, such as fur and grain. Later I picked up painting again. I felt freer and freer.
Ms Xiang: I am very interested in your paintings. Potato is a subject matter you always paint. Does it has anything to do with van Gogh's potato?
Mr Yan: Potato is the most ordinary, the most moving, and the least colorful of all the fruits I am familiar with. Just like its name (potato's Chinese name literally means "soil bean"). Therefore it can always be linked with poverty. Poverty simplifies the world. I drew some potatoes that are cut open, and gave them a sense of solemnity and ritual. The final images emanate a kind of emotional atmosphere, bringing me right into the scene. I guess that von Gogh must have felt affection for potato, and it may be the reason all the persons he painted looked like potatoes.
Mr Xiang: How do you feel about animals, for example, cattle and horses, which you often represented?
Mr Yan: The domestication of animals by mankind has a long history. There are control and love in it. Domesticated animals are very meek, providing a weak group for men to spur on. But men also need to make use of their strength. Men often exhaust their strength. In agricultural laboring, they and we are like family and friends, and a sentiment of mutual dependence can emerge. Sometimes we even have an illusion that they and we have a common fate. I've seen that some treated them well, and others treated them badly, in a way someone treated his dumb brother. But when they die, we eat their meat and sleep on their hide all the same. That's why people who want to swear an oath always say: I'll serve you in the form of cattle or horse in the next life.
Ms Xiang: Cowhide is a subject matter or material you frequently use. As I see it, it is somewhat different from other materials like earth and grain. Or, since I could be projecting my imagination on to you, cowhide and earth may have just followed the same logic in your world, both the places your personal feelings rest on, both "pure and ancient" origins? But it seems that in your paintings with cowhide as subject matter more profound evolution of language could be found. Do I understand it correctly?
Mr Yan: I always wanted to draw cattle. Both the color and shape of cattle have a warm, solid, and slow feel. And I am familiar with cattle. I want to by drawing cattle give expression to my understanding about man and my life experiences. But the figure of cattle is too concrete, and I didn't want to confine myself to depicting real figures. Drawing cattle can't enable me to escape from real figures. These might be why at last I chose to draw cowhide, to draw the indescribable patterns and palpable textures of cowhide. I condensed my feelings about cattle into planes, and gained a happiness of drawing by repetitive superposition and depiction. As to the form, these paintings lie in a middle state between the concrete and the abstract. I finished them after being torn very much and trying repetitively. It could be counted as a process in which I reevaluated and internalized what I had learned, and which directly influenced my way of painting thereafter.
Ms Xiang: Later on you drew cowhide in a more and more abstract way. Was there an intent of showing "sense of ritual" in it, too? Are you interested in abstraction?
Mr Yan: I am. In the beginning I drew in a relatively realistic way. Gradually I freely constructed the images, without faithfully following what cowhide looks like any more. The meanings of "picture" became richer, which might be the result of the fact that I had distanced my paintings from real objects. So I tried my best not to depict concrete figures of real objects, but to directly resort to my feelings. Strangely the meanings brought by the pictures became richer. But at the same time I was wary of "abstraction". Speaking of abstraction, we usually think of the concept of abstraction developed since the time of the western modernism. I've always had difficulty embracing that concept. It might be for the reason of the discrepancy in inner logic; though I studied the western history of arts, I can't help being reluctant to accept it. So I always keep a distance from it. As a painter, however, I am quick to see some forms of intentionality outside of real objects, as small as structural units, as big as the picture of fate. They come from real objects, yet relatively distant from the realities. But they can shed some inspirational light on the reality. This "becoming" I see involves the accumulation of knowledge, as well as the intuition of personal life. I am attracted to such things, and my paintings begin with them. I am not sure whether or not this is "abstraction". If it is, it is an "abstraction" rooted in my logical evolution. The evolution and development of pictorial language can activate our understanding and perception, and vice versa. Perhaps this is a question I need to think about all along the way.
Ms Xiang: You painted a lot in 2012, and contrary to the common approach to painting series, you painted them without a clear vein. They have a common style, but the subject matters are varied. I think it is the richest year in your career as far as variety is concerned. "Watermelon Red" and "Horseback" are both strokes of inspiration. And many of them have a plain style close to the tradition. About the painting, which was your major , do you have any unique thoughts?
Mr Yan: My major in college was oil painting. I hadn't painted anything for several years after graduation, for a lot of unabsorbed knowledge had become my shackles. Bits of illumination fell to me in 2011 and 2012, and I felt somewhat relaxed. Since the Cowhide series, painting has come back into my hands. I didn't think about it very much, and just painted them mindlessly, very much impromptu. LOL. I can't talk about my unique thoughts yet. I just have to be sure about the origin of each work of mine. It must come from my own logic and desires. This is very difficulty.
Ms Xiang: Well, I'd like to ask how such works as "Watermelon Red" and "Horseback" came into being? And "A Single Stone", "A Donkey Leg", "A Brick of Coal", and "Two Mounds of Earth"? These paintings are somewhat different from those like "The Look of the Sky", "Wild Vegetables", and "Wild Fire", which have a touch of the "Scar" style of 1980s. And your paintings from that year have multiple threads. What do the origin, logic, and desire mean?
Mr Yan: In 2011 I drew several paintings of cowhide, and recovered a little the handy easiness with painting. After that, I fervently painted those paintings you just listed, in a rather comprehensive way, as it were, facing my memories. Their appearances and content are surely not homogeneous. But when looking back, I found that they have one thing in common: all the objects I depicted are against a backdrop neither sunny nor overcast, and they are all at some general yet uncertain time point. They seem more like impressions of memories, as well as analogies for the reality. With this angle in mind, I couldn't draw totally realistic paintings. My paintings always contain some concrete figures, yet all somewhat processed subjectively by me. For me, all the scenes of these paintings are the same one. Every painting has a different story background, but it does so only because of distance in time. I expressed them in imagery. They are not the recoveries of the scenes from memory, but the results of the remembering. It is inevitable that they contain shadows of the present time. The reason one recalls must be that he has run into trouble in real life. He need to confirm his value, so as to regain the courage and strength from the past to face up to the present.
Ms Xiang: I happen to be interested in your working logic. Why have some threads been continued, such as potatoes, farming tools, and cowhide (many cowhide series), while others haven't? For example, the way of "Horseback", which is a little "voluptuous" in comparison with your other works.
Mr Yan: These paintings had started some threads. I had many reasons to continue them. But at the time I preferred the inspirations of cowhide and potatoes. Maybe I will continue those threads some day, but I had no time for that then. It was not a rational plan; I just followed the impulses. I am always driven by the strongest perceptual intuition. This may be a kind logic that has no logic, and I enjoy it. Pushing myself to sort out a logic is as headachy as analyzing the proportion of the vitamin components of a pretty apple. "Horseback" is indeed an exception to my works. It is so beautiful. Oddly enough, after finishing this painting, I seemed to have bid farewell to a certain sentiment. With the changes of age and mindset, I guess I can never draw something like that.
Ms Xiang: Many titles of your works are very interesting, such as the use of numerals: "A Single Stone", "Two Mounds of Earth", "Four Potatoes" … and "Five Cows" series; and the language with an air of the agricultural age and wisdom, such as "Bun House", "Cutting Potatoes", "Hidden Knife", "Home"; and titles with a touch of literary and poetry, such as "Injured Tree", "The Pain of Weight"," Suffering Slop" ,"From Day to Evening". Do you name your works randomly?
Mr Yan: I like poetry. Sometimes drawing is like writing poems. I always name my works in light of their feels, getting off the decorative words as I could, and staying satisfied as long as the names are plain and direct.
Ms Xiang: I also very much like the "Cutting Potatoes" series. Its language also lies between abstraction and figurativeness, and it represents still life in sceneries of a constitutive sense. "Watermelon Red" also has a similar approach, with a unique language. Why do you employ such a language only limitedly? Why haven't you extend it to your installation works?
Mr Yan: "Cutting Potatoes" series may be seen as an aggregation of many efforts before, all of which somewhat involved putting some trivial things between the sky and the earth, and emphasized this point through pictorial structures and coloring. This aggregation was not the end of them, but led to some other clues, which is what I am working on. "Cutting Potatoes" series and "Cowhide" series perhaps represent the two parallel lines of my painting works. In emphasizing the ritual sense of ordinary objects, the paintings of "Cutting Potatoes" have something in common with the most of my installation works. But while the paintings contain some virtual scenes, in the installation works I put more emphasis on the stark material qualities and their correspondences to human bodies. Nevertheless, it may be just because I also draw paintings that the aesthetic habit of painting hadn't escaped the eyes of some viewers in my recent exhibition "Love". For me, perhaps it is an inadvertent reconciliation of the two grammars.
Mr Xiang: In some of your works, home electronics are pasted up by earth, which has changed their shapes and functions, even their beings: industrial products seem like living natural beings. And such works as "Grain" and "The Pagoda Without a Name" reveal a trace of primitive worship, full of spirituality, which you always pursuit in your works. Do you think it will always be a supporting force for you?
Mr Yan: I care about the spirituality of my works. I did it more directly in the works of early years, and now I hope to do it in a more obscure way. But you can't control this, and there is no need to control. The old works now help to bring about and nurture new works. In the last several years I could sense some changes, and realize the relatively invariant part. I think the spirituality of works has something to do with the author's breath. As time goes on, it neither stays put nor turns too strange. But it will always be there like a shadow.
Ms Xiang: "The Pain of Weight" is also a group of works of emotional power. Have you touched those sharp shapes and implications in this year's "Love"?
Mr Yan: One becomes emotional only when experiencing something personally. "The Pain of Weight" came from an experience of pain when I had an operation. It meant a lot to me, something of transference. In the series "Love", I struck iron plates into some containers, filled them with wheat, then sealed them permanently. It is cruel and sentimental for the iron and the land. The appearance of the work indicates the basic elements and forms of the world, and some human mental impressions, such as rectangular, conical, circular, heavy, exhausted, sharp, callous, etc.
Ms Xiang: In "Earth and Mirror" series and "Fresh Earth" series, forms resembling mirror frames are used. Why did you use mirrors? What's point of using mirror frames in your works? Why did you put things like earth in mirror frames?
Mr Yan: It is even closer to painting. In painting, to obtain some kind of texture I would paint again and again, especially in "Cowhide" series. In some local parts the paints are so thick that the distinction between painting and sculpture has been blurred. From this feature came out "Earth and Mirror" series and "Fresh Earth" series. In comparison with the earth installation works I did before, these two series tend to be more of planes. And the use of mirror frames intimates the planar property. The actions of pasting up mirrors with earth and embedding them into mirror frames may mean something of "curtness", for I willfully put a patch of earth on the center of the visual field.
Ms Xiang: Speaking of the significance of transference, it is something that you have kept exploring. And the subject in your works have been always distinct. Will you continue proceeding along such threads in the future? Are there any aspects that you are interested in but haven't yet adequately explored?
Mr Yan: As for painting, much of my experience have been condensed in "Cutting Potatoes" series and "Cowhide" series. But now I am more concerned with the new experience and possible forms they spark off. I am reluctant to repeat a form, but repeating a theme is alright. I wish to delve deeper into a theme through expressions from different angles. So I will perhaps draw some paintings of different appearances, or jump back to some old painting and start over again. I am not sure now. But I know the cores of them will be consistent. Another interesting thing about painting is that although every painting flows out of my experience, it also quietly changes my experience and understanding. So the central proposition is not a dead one, but is flowing and growing as I constantly renew my understanding. Because of the qualities of materials, efforts of my installation works look more different from each other. But doing painting and installation, for me, are both walking along the same river.
Ms Xiang: Do you have anything to say in your works about your city life these years?
Mr Yan: I am only lodging in city. For me it is too new, too fast, not frank enough. Everything is temporary, lacking the classical charm of the sense of eternal time. I have no interest at all in expressing about it. However, I have been living in this temporary state for so many years, and may inevitably live in this state all my life. And it seems to be the state which most of people find themselves in. This anxiety produces a kind of reaction force, making me turn about my head and gaze at time and history.